This

Portable Food Bag Sealing Machine

will help

keep all edibles

(groceries, chips, candies, snacks, leftovers)

FRESH and DRY.
No need for snack clips and other unnecessary food savers!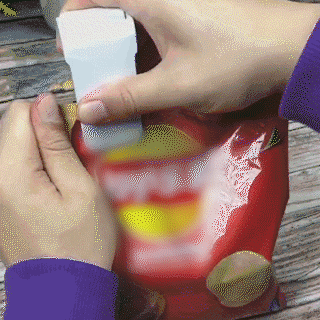 FEATURES: 
Easy to use: open the cover to preheat the item by pressing 5 seconds before using, then simply slide it along the edge of any bag, and it's sealed airtight.
Multi-Function: Keep all edibles (groceries, chips, candies, snacks, leftovers) FRESH and DRY.
 Avoid containers that don't truly keep food sealed from the air.
Any type of plastic or aluminum bag is subject to the power of sealing.
Seal In Seconds: Just press and pull the mini food sealer across the bag to create an airtight seal. 
You will lock your food/ snacks in freshness and flavor.
Safe & Convenient Sealer: Magnetic bottom, it easily attaches to refrigerators or any stationary metal surface
So you will keep it handy in your kitchen, outdoor, cabinet, or anywhere you need it.

How to use:
Insert 2 AA Batteries (Batteries Not Included)
Unlock Safety/Protective Cap to Down Position
Press Down on Sealer to Preheat 5-7 Seconds
Flatten Out Surface of Desired Bag to be Sealed
Apply Sealer to Bag and Firmly Press Down
While Pressing Down, Move Moderately from One End to Another
Move Protective Cap Back to Up Position
Specifications:
Material: high-quality ABS material, resistant to high and low temperatures. Non-toxic and durable
Size:9.7cm*3cm
Color: pink/white.
Battery: 1.5V, 2 AA batteries, only alkaline batteries (not included) can be used.